Byline Bank is a community bank based in Chicago with history spans over 100 years. Recently, its name changed from North Community Bank to Byline Bank but the commitment remains the same – to be the bank residents of Chicago deserve.
Website: https://www.bylinebank.com/
Routing Number: 071001533
Swift Code: Not Available
Telephone Number: 866.957.7700
Headquartered In: Illinois
Founded: 1978 (42 years ago)
Bank's Rating:
Read this tutorial in
Check your credit with Identity IQ
Byline Bank provides Online banking to its customers a to offer them 24/7 access to their bank accounts. By Enrolling for online account, customers are able to access their finances any time via their PC or smartphone. If you need to enroll for an account, learn how to log in or reset your password, this guideline caters for you.
HOW TO LOG IN
For you to log in, you must have an online banking account. If you already have it, on your PC, follow these steps:
Step 1-  In your web browser, type or click https://www.bylinebank.com/ to access the bank's website.
Step 2- In the Online Banking area, select the account type, type in your Username and password, then click "Log In". If the credential you enter are correct, you will automatically be taken to the dashboard of your Byline Bank online account.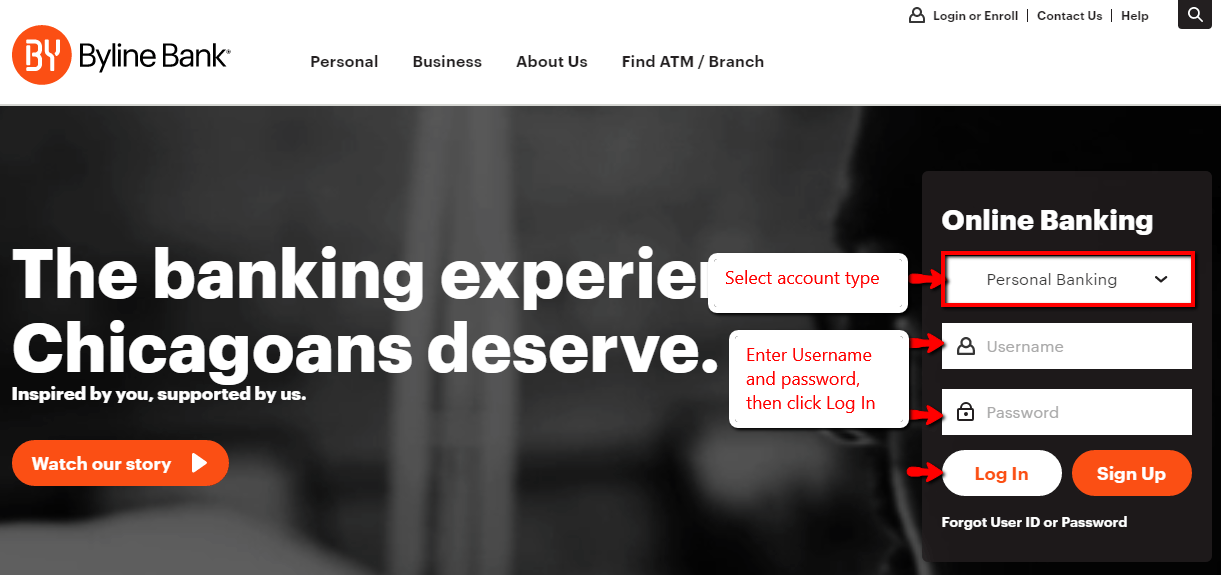 FORGOTTEN PASSWORD / LOGIN ID?
If you can't remember your password or User ID, do the following:
Step 1- On the bank's home page, click the shown link that says "Forgot User ID or Password" below the Login button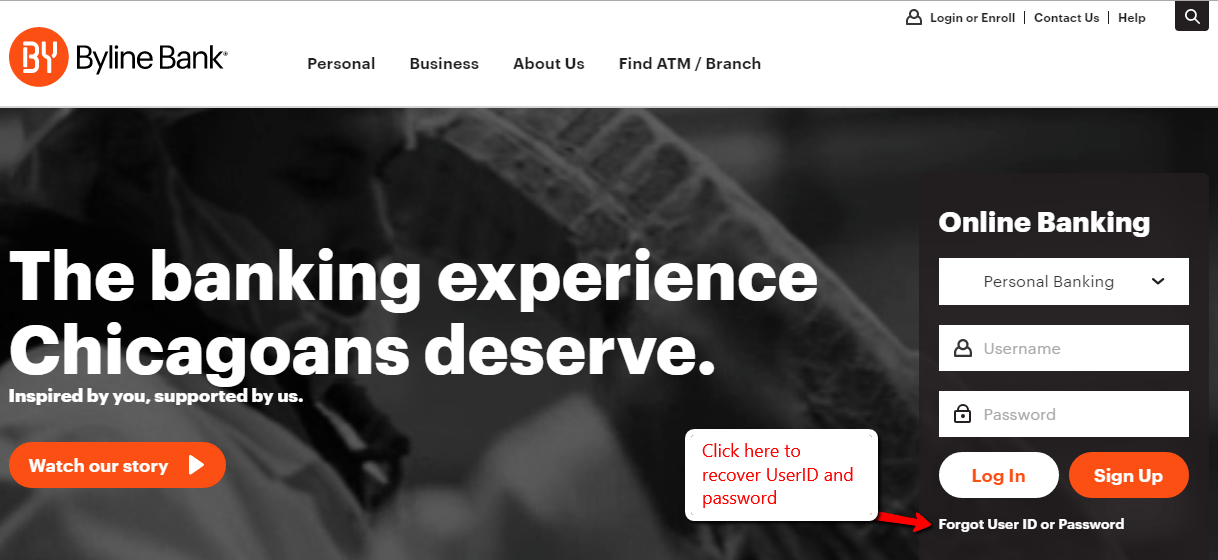 Step 2- To recover your password, enter phone number associated with your account and your Username, then click the "Send me a new password" button. If the phone number you provide tally with what is in the bank's record, the bank will text you a new password.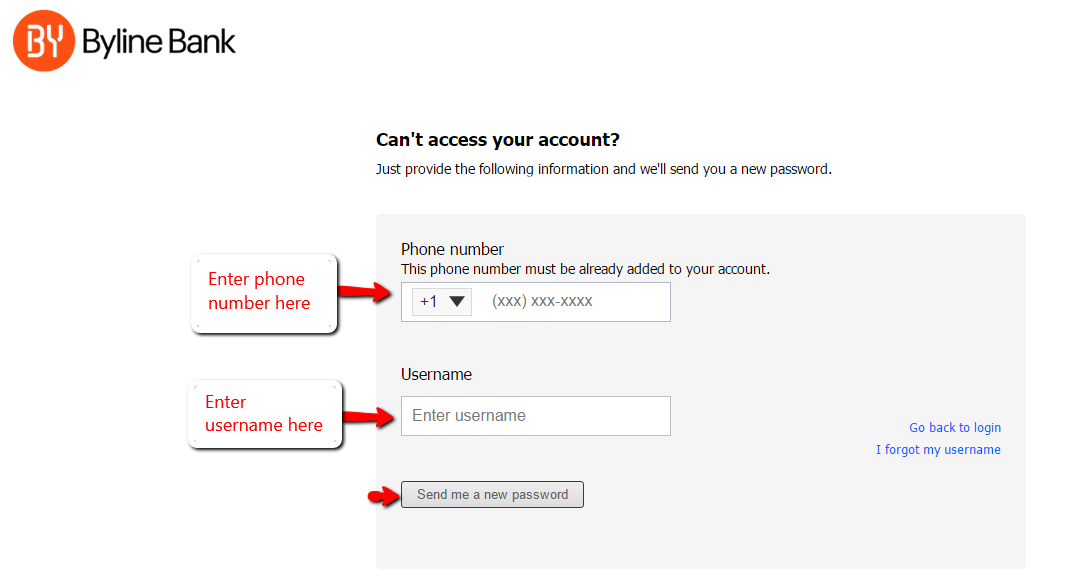 Step 3- To recover your Username, follow the first two steps and click the shown link that says "I forgot my username"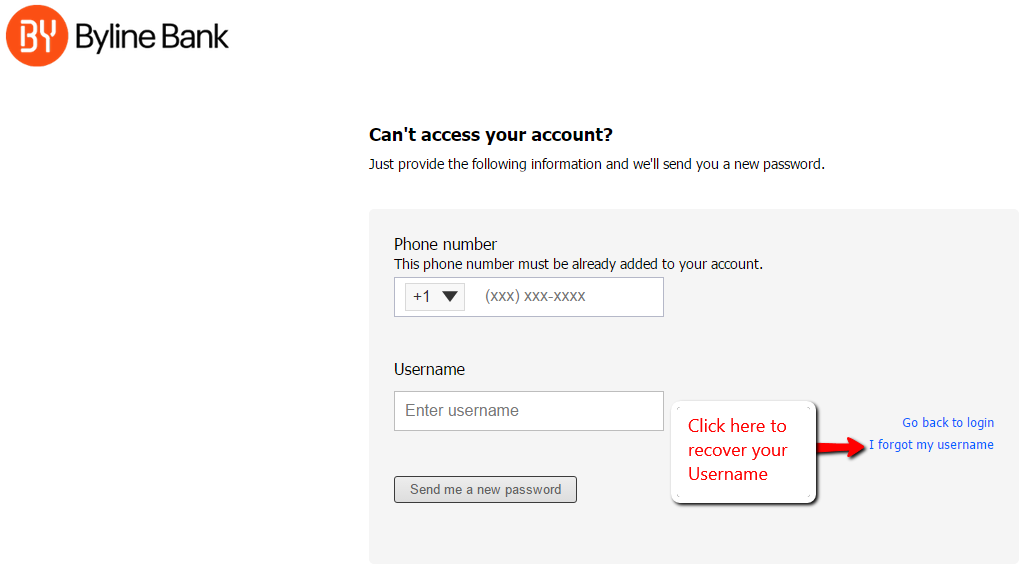 Step 4- Enter email address associated with your account, then click Send. You will receive an email with your username.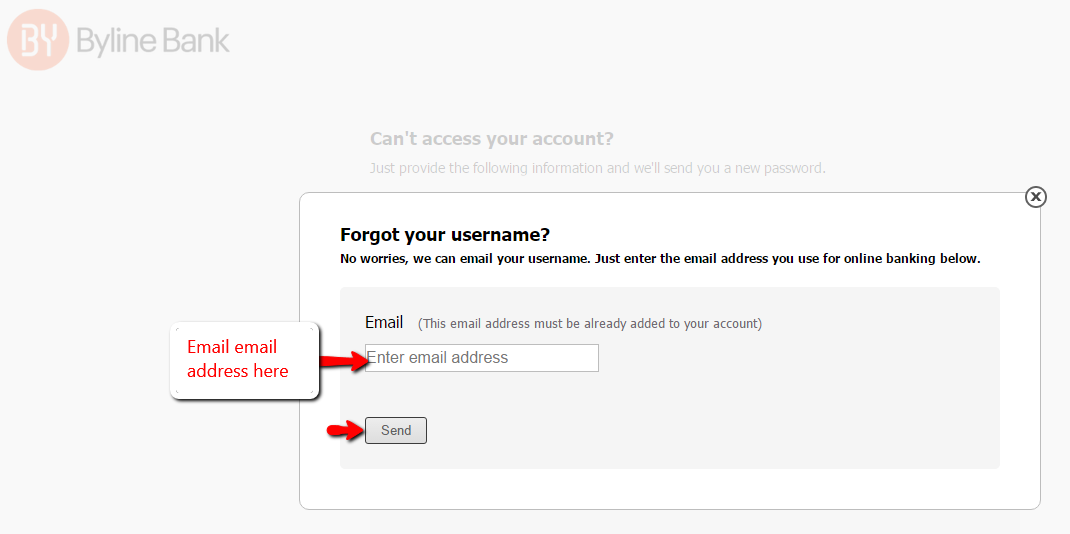 Now that you've recovered you username or password or both you can login to your online account.
HOW TO ENROLL
To enroll for a new online banking account, Byline Bank requires its accept Federal E-Sign Act Disclosure and Consent and fill in the Secure Sign Up form. Below are the steps involved:
Step 1 – In the bank's homepage, click on the highlighted link that says "Sign Up" to enroll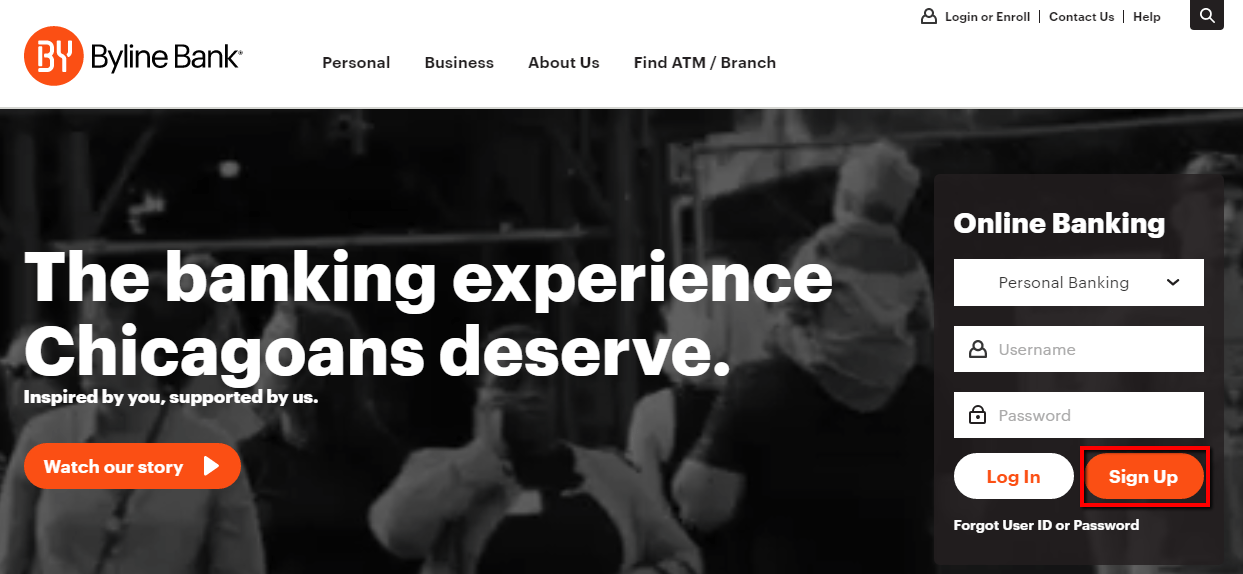 Step 2- Accept the Disclosure agreement by clicking the "Accept" button. Next fill in the form below and check the both next to the Terms & Conditions to accept the terms, then click "Complete Sign up" button at the bottom of the page.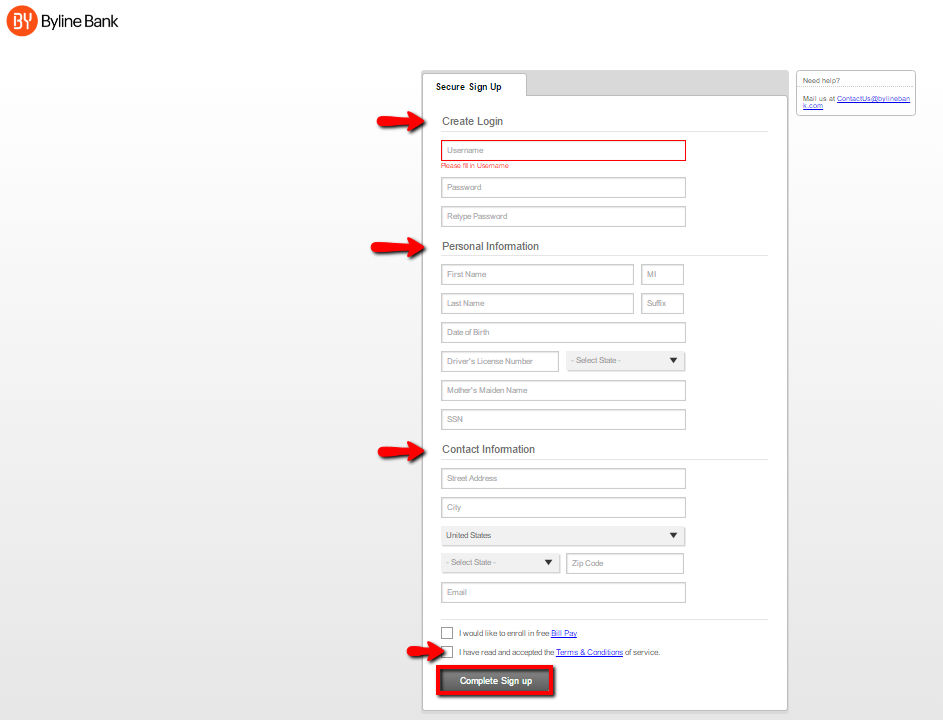 After completing the enrollment process, you will receive an email notification. Now you can login to your online account.
MANAGE BYLINE BANK ONLINE ACCOUNT
Having Byline Bank's online banking account, you can do the following:
Check balances
Transfer money between accounts
Deposit checks
Approve wire and ACH payments
Video Instructions
Holiday Schedule for 2020 & 2021
These are the federal holidays of which the Federal Reserve Bank is closed.
Byline Bank and other financial institutes are closed on the same holidays.
| Holiday | 2020 | 2021 |
| --- | --- | --- |
| New Year's Day | January 1 | January 1 |
| Martin Luther King Day | January 20 | January 18 |
| Presidents Day | February 17 | February 15 |
| Memorial Day | May 25 | May 31 |
| Independence Day | July 4 | July 4 |
| Labor Day | September 7 | September 6 |
| Columbus Day | October 12 | October 11 |
| Veterans Day | November 11 | November 11 |
| Thanksgiving Day | November 26 | November 25 |
| Christmas Day | December 25 | December 25 |
Login Instructions for Other Banks (See all)