Bank of McKenney was chartered as the Bank of Dinwiddie in 1906. It is headquartered in McKenney, Virginia and serves Dinwiddie, Chesterfield, Prince George, Petersburg, Hopewell and Colonial Heights. It has seven branches.
By using Online Banking service from Bank of McKenney, you are able to take care of all your banking needs from home, work, or anywhere you have internet access. Online banking is a secure, fast and easy way of managing your finances on your terms. In addition, you're not limited by business hours since online banking is available 7 days a week. The following guide will help personal account holders access online banking service.
HOW TO LOG IN
Online banking users at Bank of McKenney can access their online banking account after providing their online banking credentials:
Step 1- Click this link http://www.bankofmckenney.com/ to access Bank of McKenney website
Step 2- In the homepage, click Account Login at the top right corner to access login page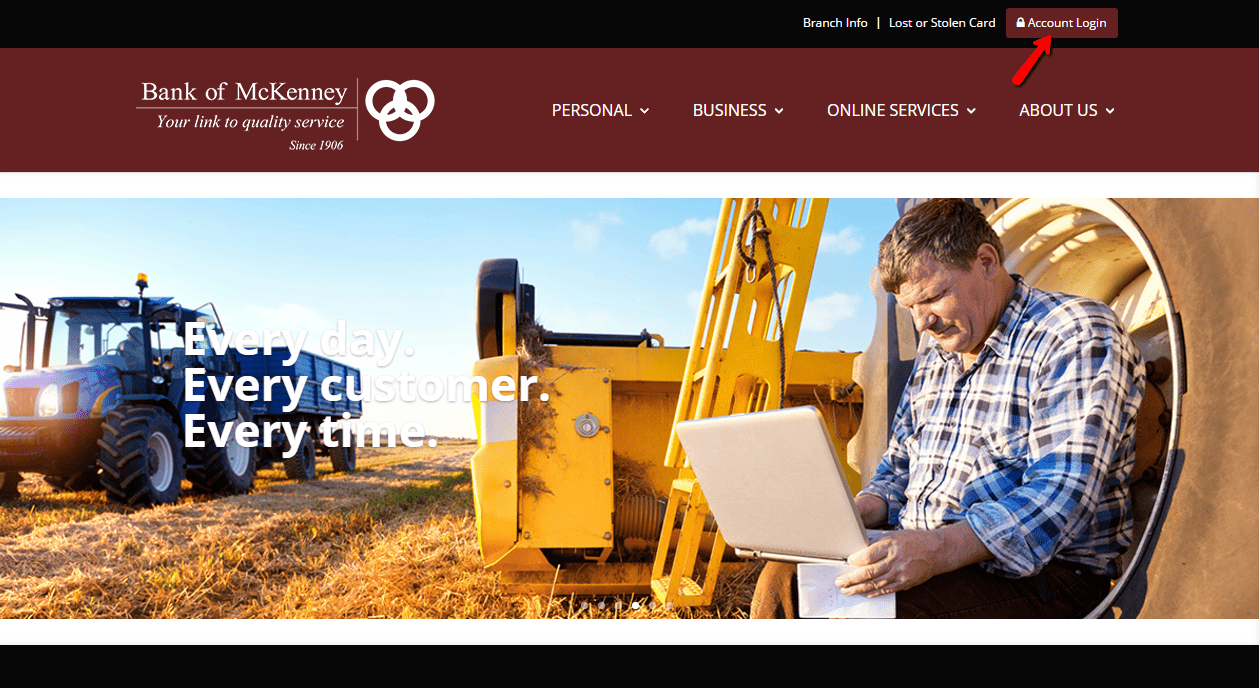 Step 3- Enter your Username, then click Continue

Step 4- Click Continue with Security Code to receive a one-time security code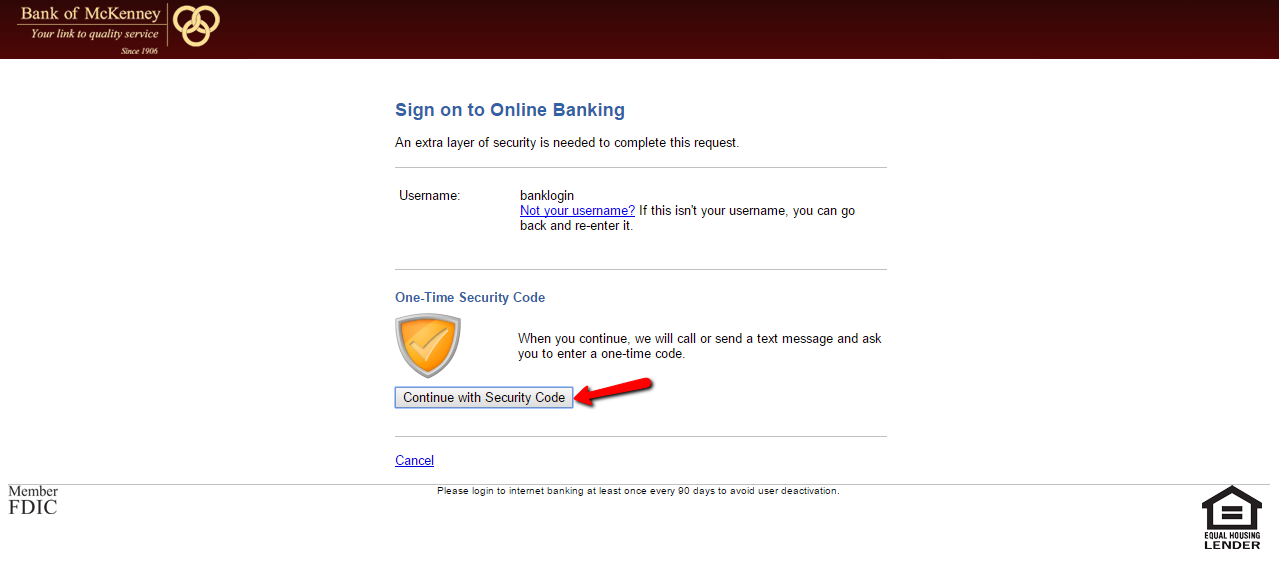 Step 5- Choose how you want to receive the code with phone or text message, then click Continue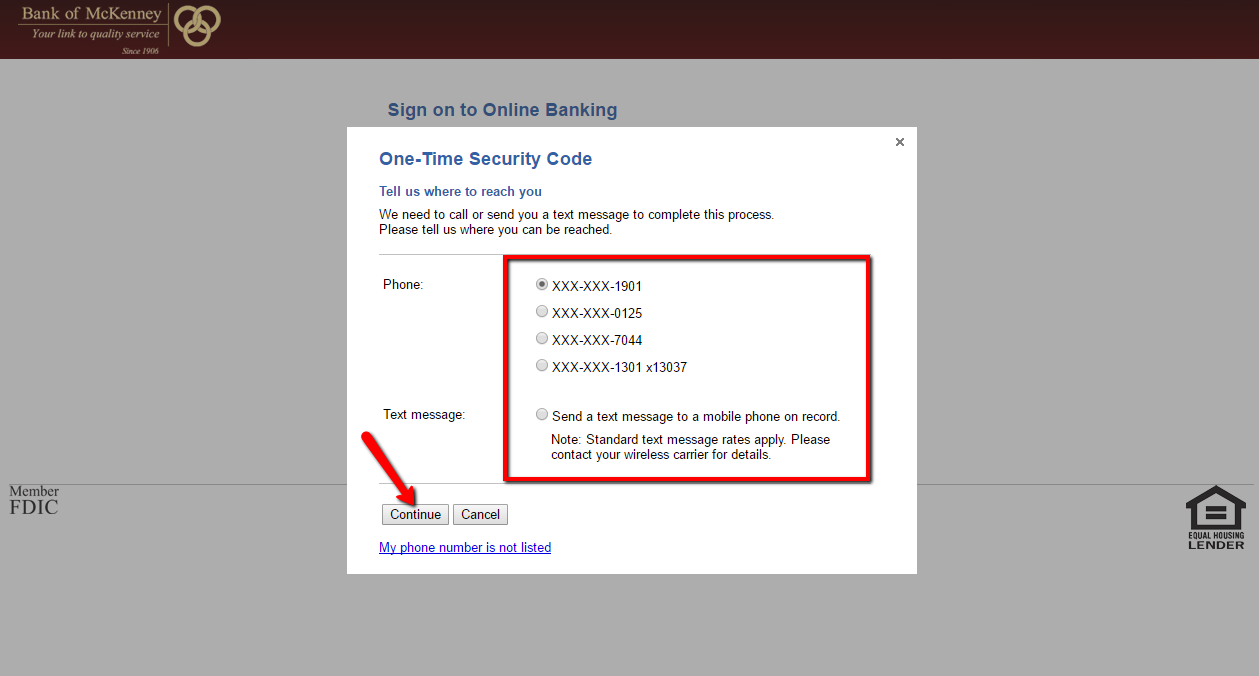 The system will take you to the password-entry page before accessing your online banking account.
FORGOTTEN PASSWORD/LOG ID?
Online banking users can reset/recover forgotten online banking credentials. To do this, follow the steps shown below:
Recover Username
Step 1- In the login page, click Forgot your username? link

Step 2- Provide your Email address, SSN/TIN and Account number, then click Submit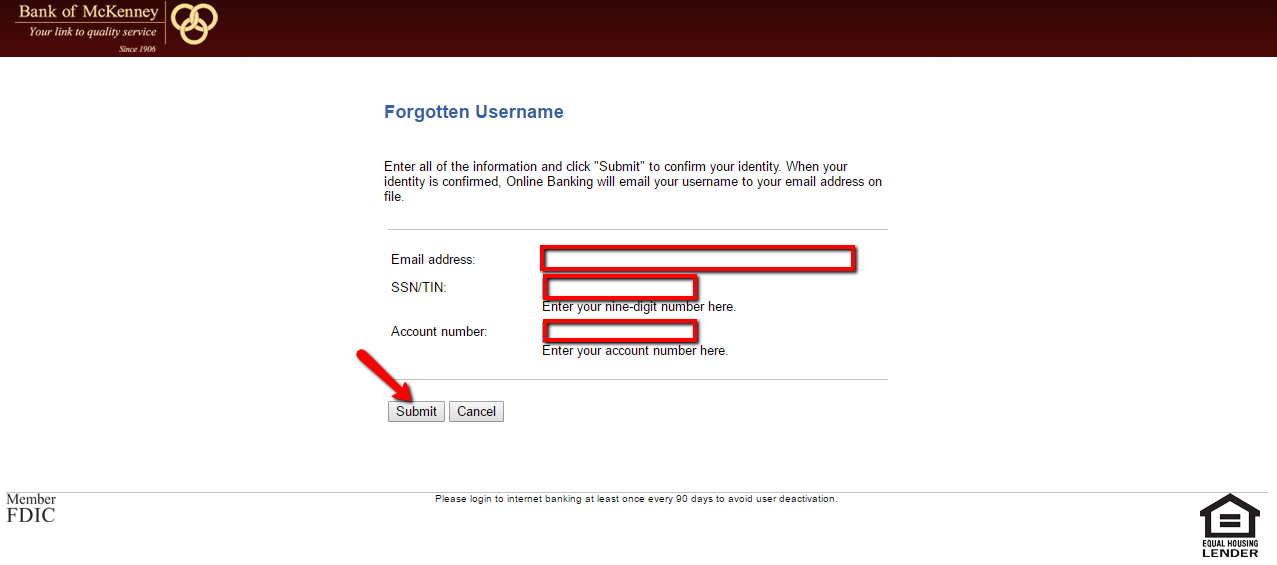 The Online Banking platform will email your username to your online banking email address after validating your account details.
HOW TO ENROLL
To enjoy the convenience of online banking at Bank of McKenney, follow the steps outlined below to enroll if you are an account holder in the bank:
Step 1- In the homepage, hover cursor over the ONLINE SERVICES tab, then click Internet Banking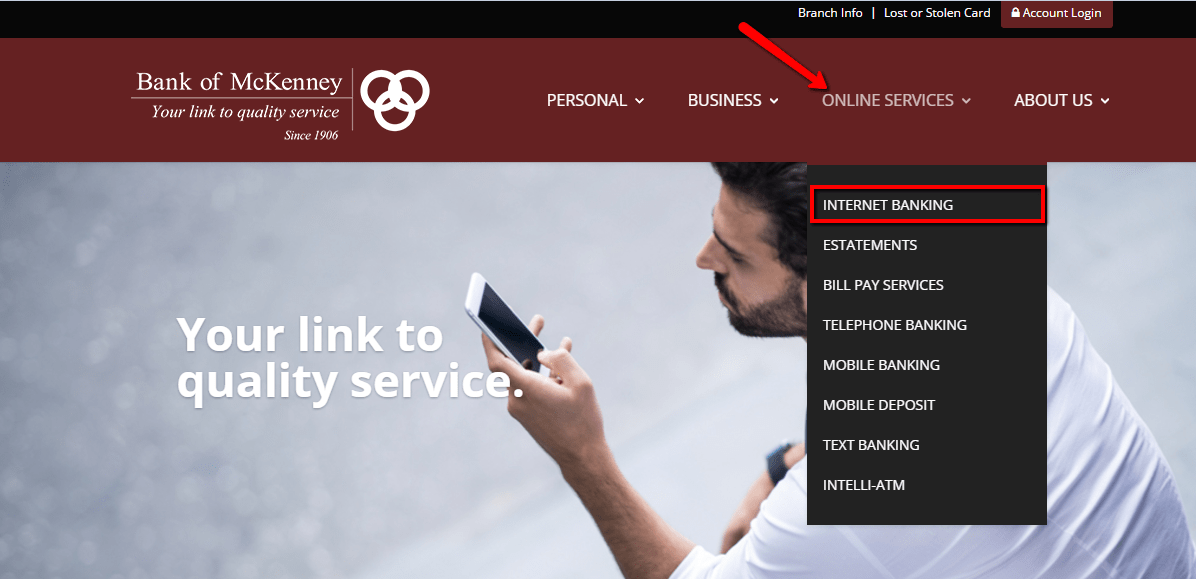 Step 2- Scroll down and CLICK TO ENROLL NOW link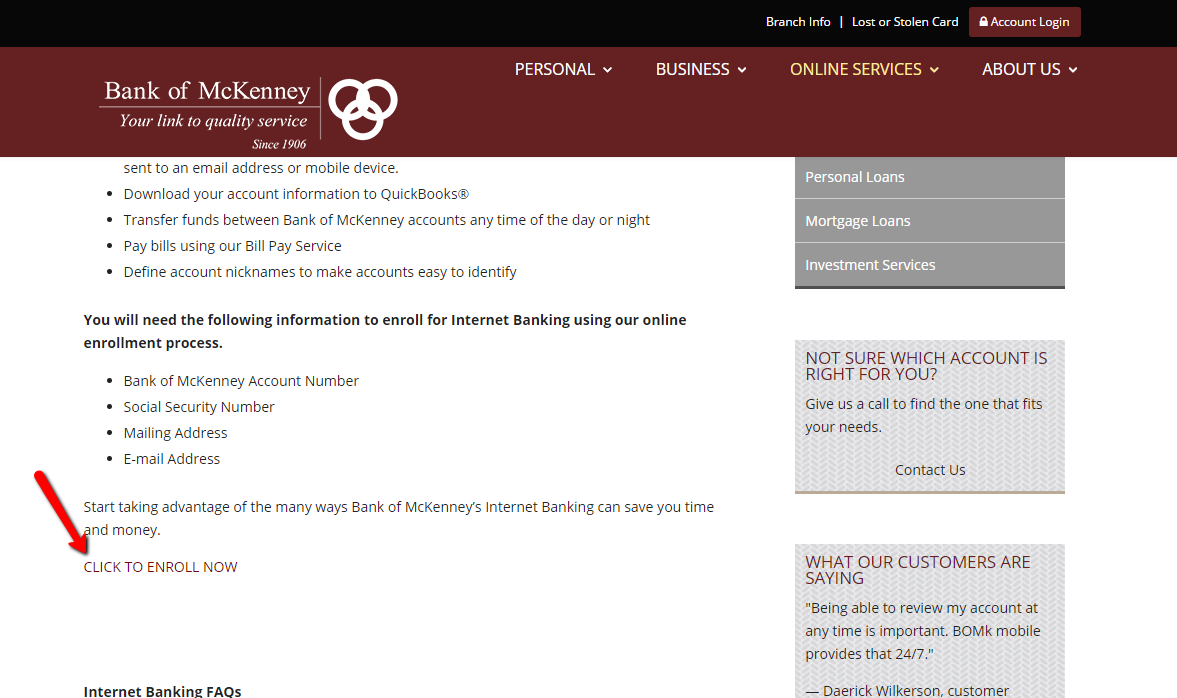 Step 3- Click  Please click here to Enroll into Online Banking link to begin the enrollment

Step 4- Please provide the information requested in the form so that the bank can verify your identity, then click Continue Enrollment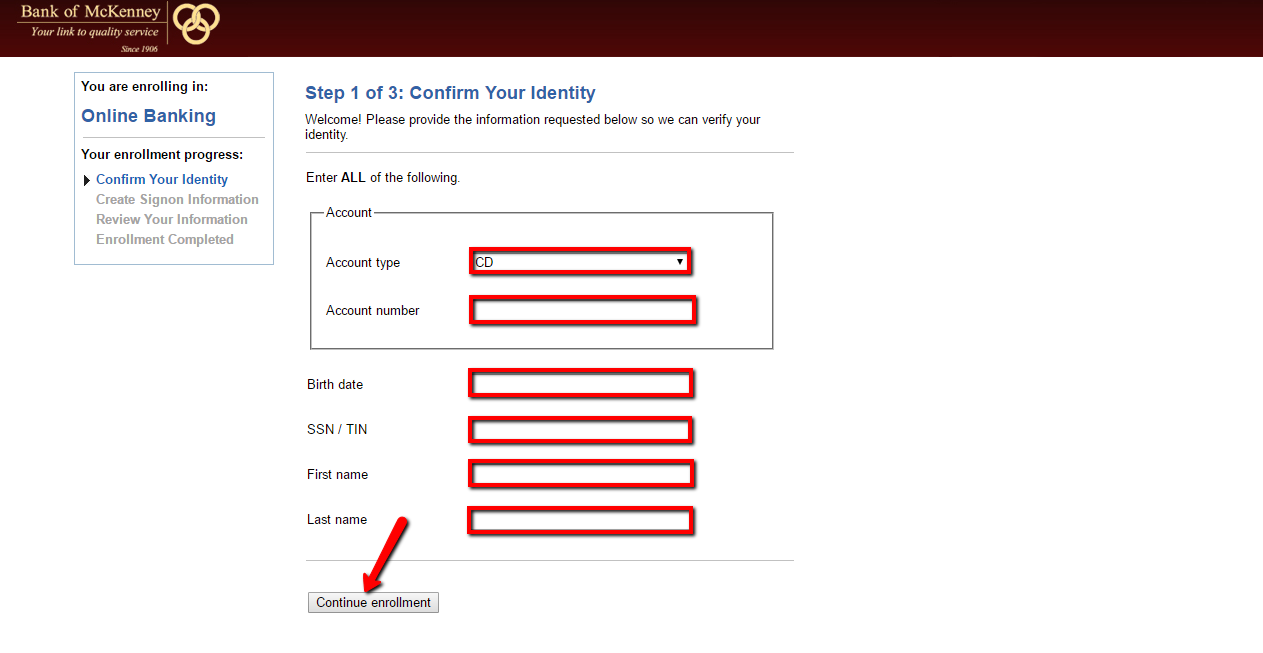 After validating your account details, the system will allow you proceed with the enrollment process.
MANAGE BANK OF MCKENNEY ONLINE ACCOUNT
At the Bank of McKenney, online banking users can:
See detailed account activity, including individual transaction details
View statements online – up to 12 months
Set alerts to monitor your account activity
Download account information to QuickBooks®
Transfer funds between Bank of McKenney accounts
Pay bills using our Bill Pay Service
Login Instructions for Other Banks (See all)