The Bank began in Lahore as  Australasia Bank before independence in 1942 and later became Allied Bank of Pakistan in 1974. Allied Bank Limited was the first bank to be established in Pakistan.

Bank's Rating:
Notice: Undefined variable: thumbnail in /home/gagthatc/public_html/ccbank.us/wp-content/plugins/wp-postratings/wp-postratings.php on line 1176

Get Free Credit Score Report!
ROUTING NUMBERS
Routing number is useful in identifying financial institutions in US in wire transfers.
The routing numbers for Allied Bank is 082902579.
WHERE TO FIND ON A CHECK
The first sequence of numbers at the bottom left corner of your check form the routing number for Allied Bank
Below is a sample check to illustrate where you can locate the routing number in your Allied Bank check.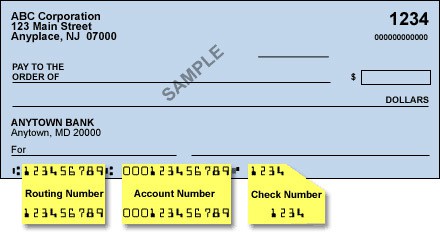 HOW TO WIRE MONEY
Wire transfers help you meet all of your immediate cash transfer needs.
Wire transfers attract a certain fee on incoming and outgoing wire transfers.
Domestic wire transfers in US are facilitated by routing number while international wire transfers are made possible through the use of SWIFT code.
Allied bank is not member to SWIFT network, thus the sending international financial institution must use an intermediary bank.
Domestic Wire
It is possible to make and receive domestic wire transfers in Allied Bank.
To receive domestic wire transfers, please provide the following details to initiate the transfer.
Bank Name – Allied Bank
Routing Number – 082902579
Address of Bank – Mulberry, AR
Beneficiary's Name – Your name as it appears on your statement
Beneficiary's Account Number – Your full Allied Bank account number
International Wire
It is possible to receive international wire transfers in your Allied Bank account via an international intermediary bank.
To receive international transfers, please get in touch with the bank to request its intermediary bank details for international wires.
After you get the necessary details, include the following information before submitting to the sender.
Beneficiary – Allied Bank
Address – Mulberry, AR
Routing Number – 082902579
Customer's Name – Your name as it appears on your statement
Customer's Account Number – Your full Allied Bank account number
Wire Transfer Fees for Allied Bank
International as well as domestic wire transfer fees vary depending on whether the transfers are incoming or outgoing.
Feel free to contact the bank directly on phone at 0800-22522 to know the fee since it's always changing.