Harbor Bank of Maryland started its operations in 1982 with an asset base of $2.1 million.  As of December 31, 2015, the bank's assets base was $288 million. It conducts its banking business in 7 branch locations and mainly serves the Baltimore, Maryland Metropolitan area.
Website: https://www.theharborbank.com/
Routing Number: 052001772
Swift Code: Not Available
Mobile App: Not Available
Telephone Number: 1-888-833-7920
Headquarters: Maryland
Founded: 1982 (35 years ago)
Bank's Rating:
The Harbor Bank of Maryland Online Banking  allows you access to your accounts any time of day, any day of the week on your computer. The guide here will direct you on how to login, reset forgotten password and enroll for an online account using your PC.
HOW TO LOG IN
To access your online account in The Harbor Bank of Maryland, the system demands you enter valid login credentials. Below are the steps involved:
Step 1-  In the PC browser, click or enter https://www.theharborbank.com/
Step 2- In the homepage and in the Online Banking section, enter your Access ID, then click the 'Secure login' button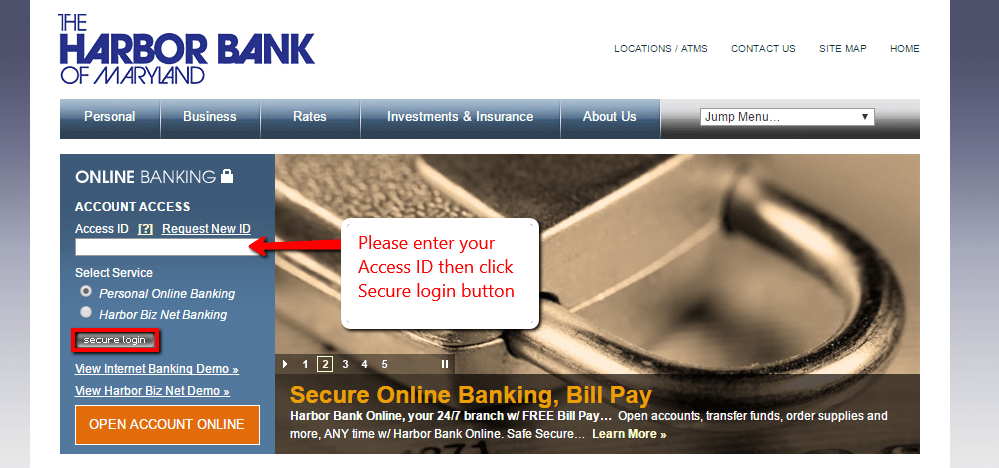 Step 3- Please enter your password, then click Submit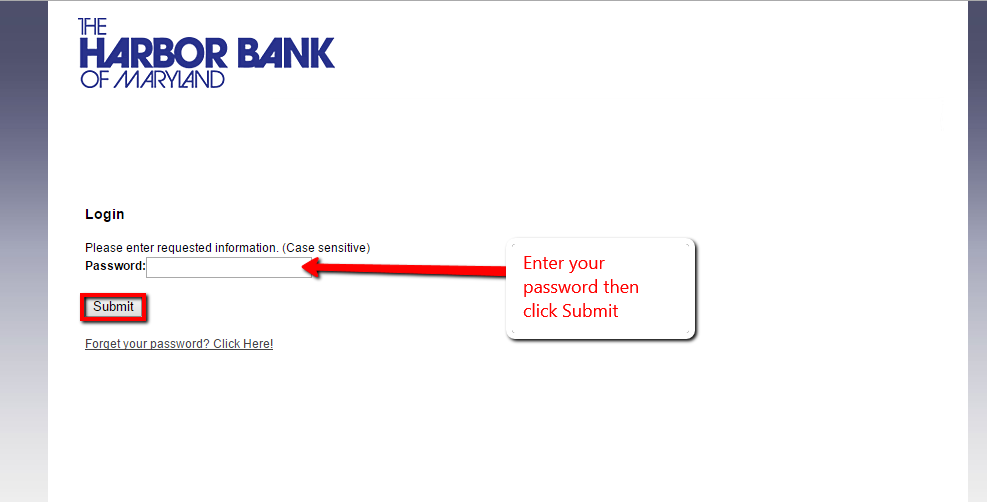 Upon verifying your identity, you will access your account
FORGOTTEN PASSWORD / LOGIN ID?
If you don't recall your password, please follow these steps to reset it:
Step 1- After submitting your Access ID, please click this link 'Forget your password? Click Here!'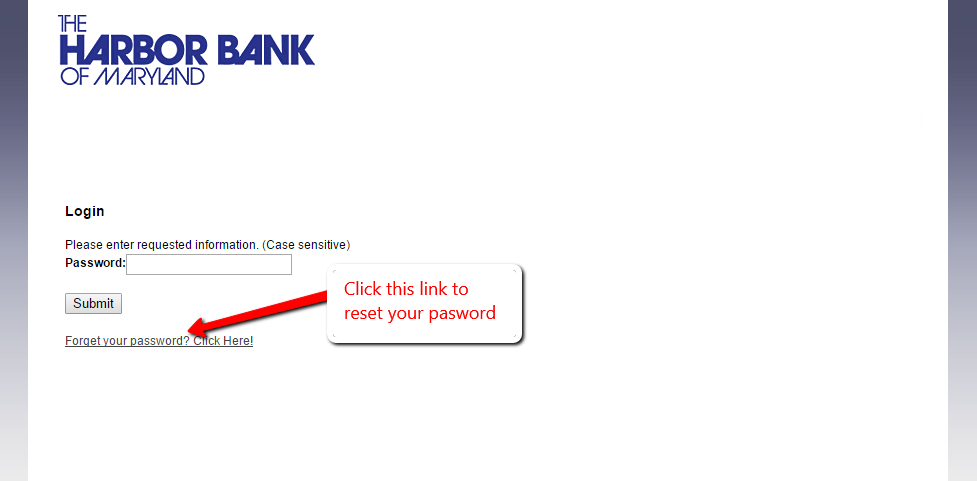 Step 2- Please enter your Access ID, Last 4 Digits of Tax ID Number and Email Address, then click Submit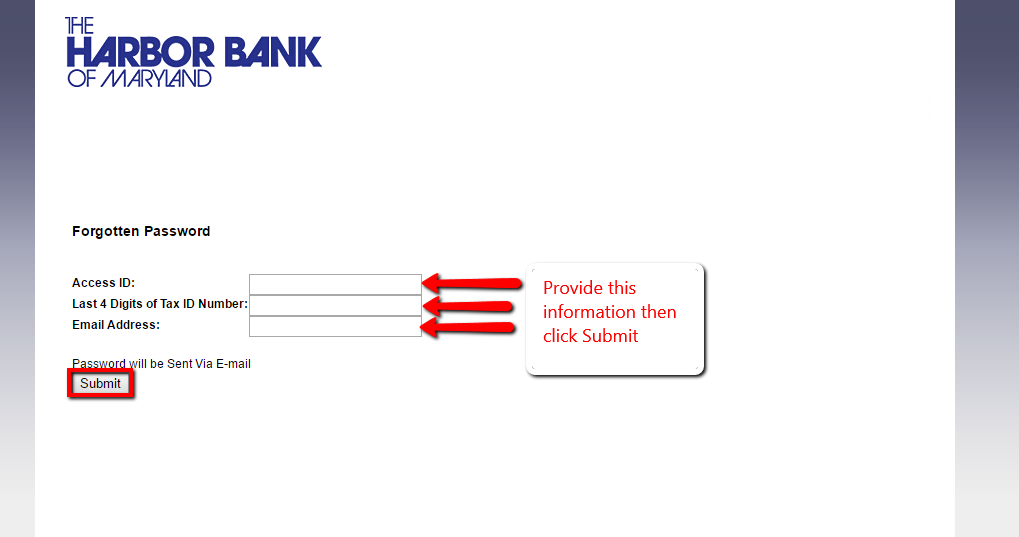 After your identity is verified, you will receive an email with your password
HOW TO ENROLL
As an account holder in The Harbor Bank of Maryland, you can follow these steps to enroll for the institution's online banking service
Step 1- In the homepage and in the Online Banking section, click the link that says 'Request New ID!'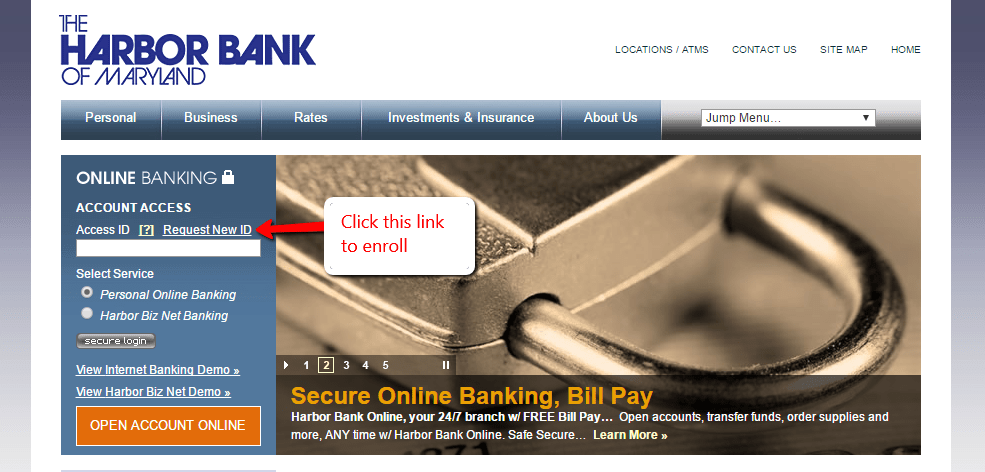 Step 2- Please enter your email address, account number, account type and 4 Digit Telebank Password or the last 4 digits of your SSN, then click Submit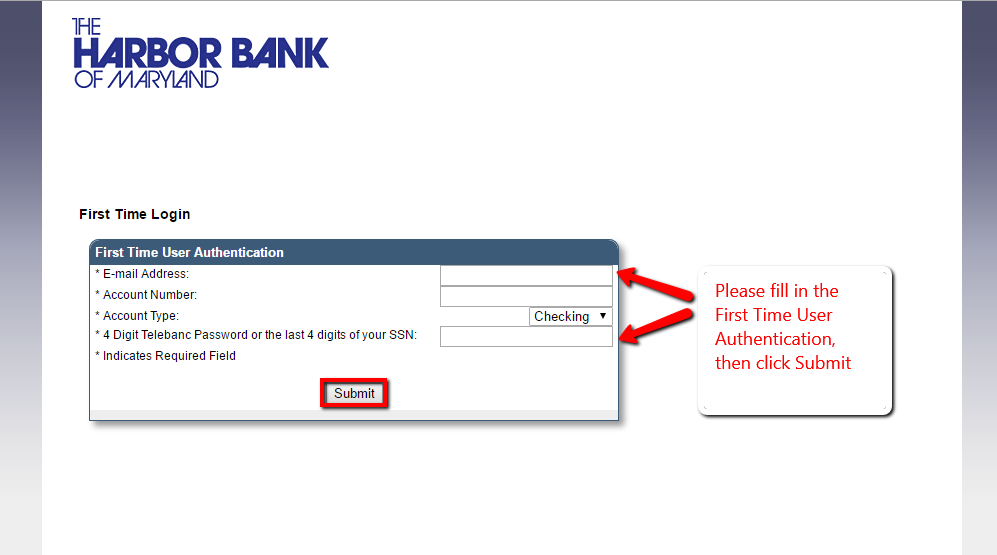 Upon approval, you will be able to set up your online account
MANAGE THE HARBOR BANK OF MARYLAND ONLINE ACCOUNT
Online Banking in The Harbor Bank of Maryland allows you to:
Set up recurring transfers between accounts
Instant transfer of money between Harbor Bank accounts
View e-Statements
Pay bills online
Download account information into you favorite financial programs
Login Instructions for Other Banks (See all)