Torrey Pines Bank was founded in 2003. The bank serves businesses across California, with 10 offices in San Diego, Los Angeles and the Bay Area. It is a division of Western Alliance Bank.
Routing Number: 122243635
Swift Code: Not Available
Mobile App: Not Available
Telephone Number: 888-880-1790
Headquarters: California
Founded: 2003 (14 years ago)
Bank's Rating:
Torrey Pines Bank Online Banking is convenient means of accessing and carrying out your banking transactions whenever is appropriate for you day or night. The guide here directs its customers on how to login, recover access to online account and even enroll for the online service.
HOW TO LOG IN
To access your online account in Torrey Pines Bank, you need valid login credentials. Here are the steps involved:
Step 1-  In the PC browser, click or enter http://www.westernalliancebancorporation.com/torrey-pines-home
Step 2- In the homepage, click the Personal button in the Online Banking Login section

Step 3- Please enter your Access ID, then click Submit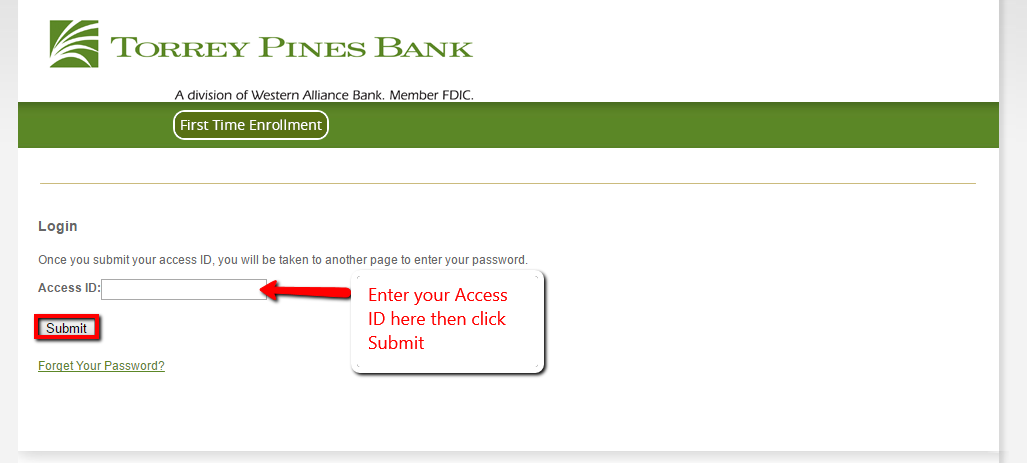 Step 4- Next, enter your password and click Submit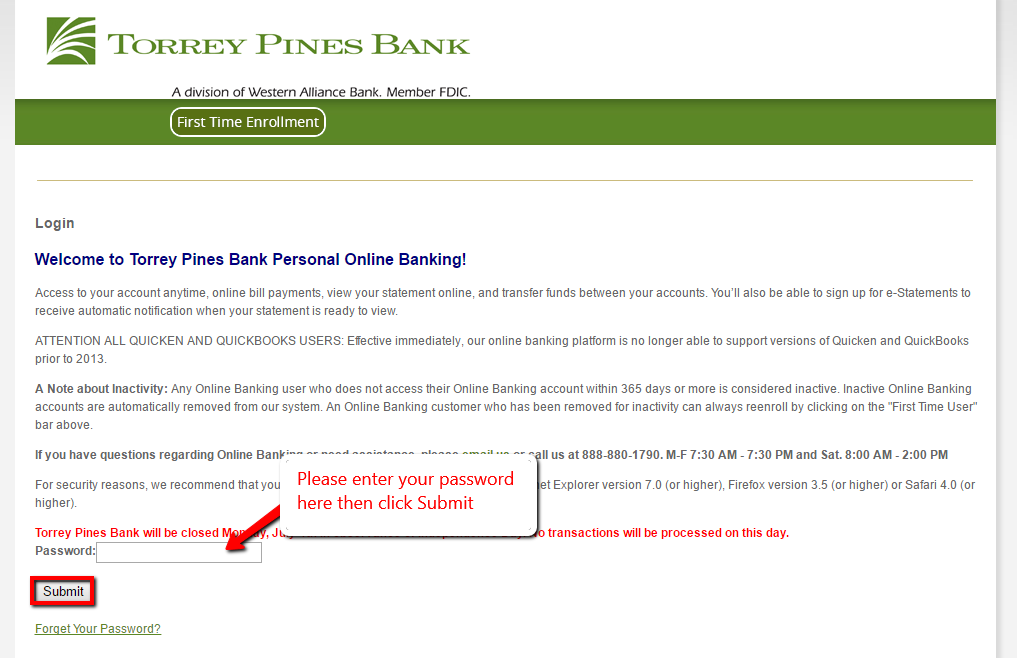 After your credentials are approved, you will receive access to your account
FORGOTTEN PASSWORD / LOGIN ID?
If you can't recall your login password, please follow these steps to reset it
Step 1- Follow the first two steps in the login section above
Step 2- Please click the 'Forget Your Password?' link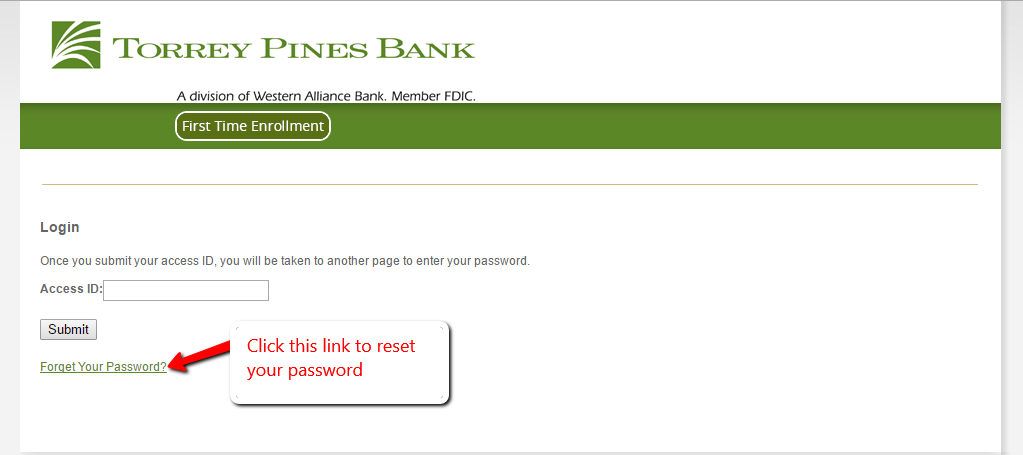 Step 3- Please enter your Access ID, Last 4 Digits of Tax ID Number and Email Address, then click Submit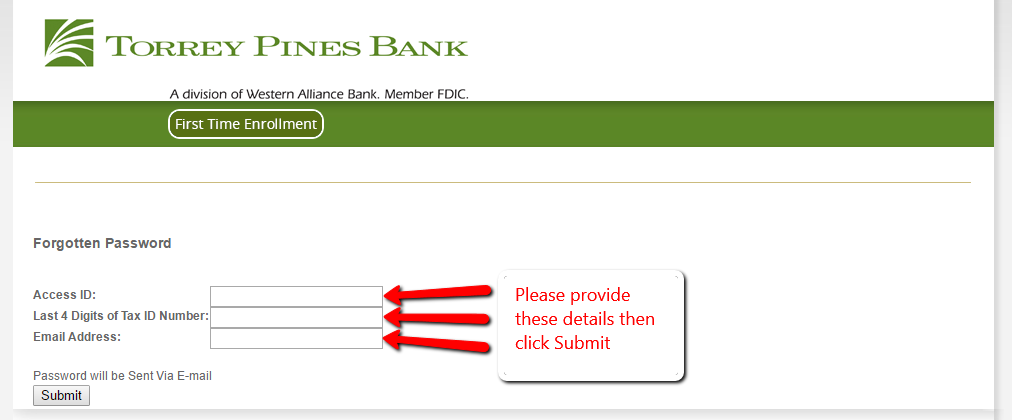 Upon establishing your identity, you will receive your password via your email address
HOW TO ENROLL
As an account holder at Torrey Pines Bank, follow these steps to enroll for the institution's online banking service
Step 1- Follow the first two steps in the login section
Step 2- Now, click the First Time Enrollment button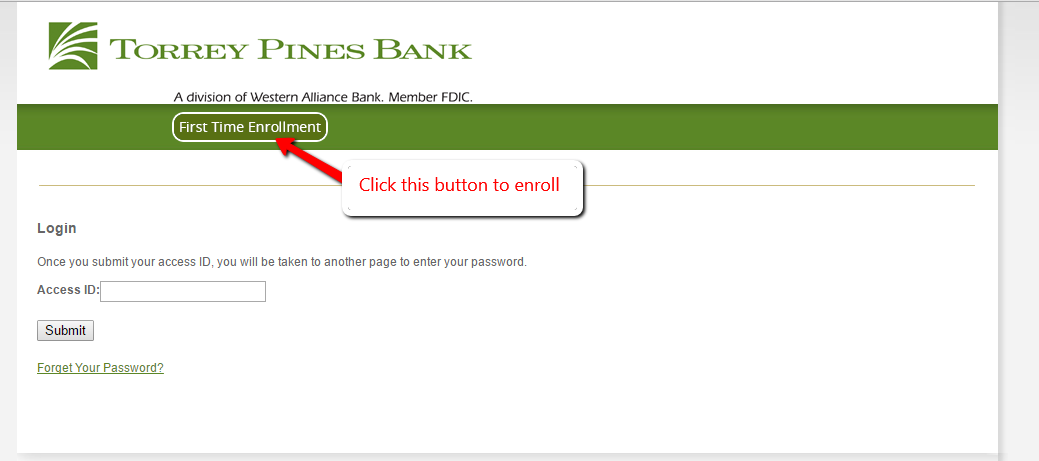 Step 3- Please fill in the First Time User Authentication form, then click Submit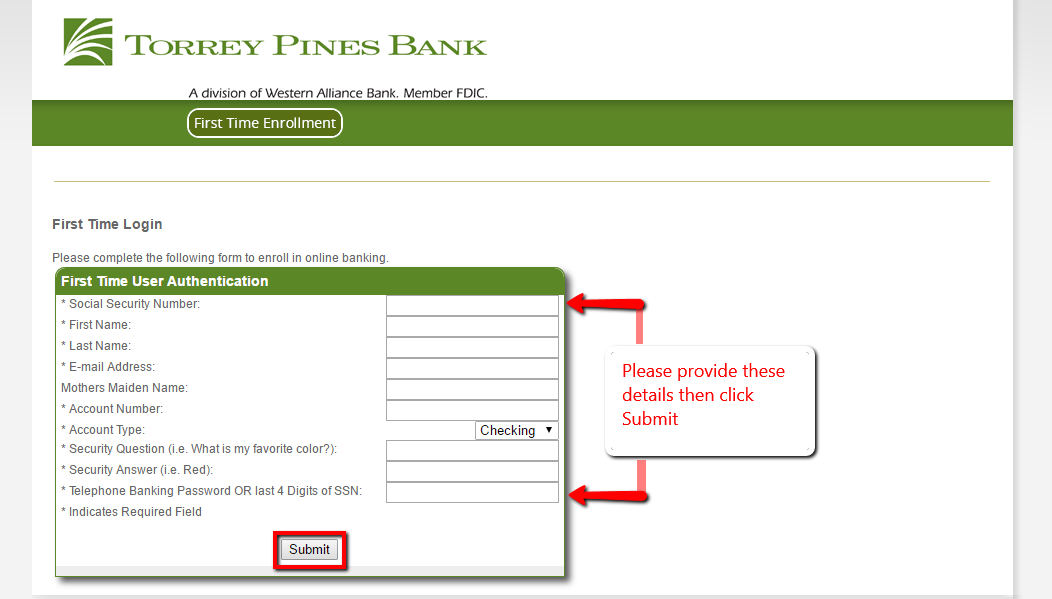 After your information is approved, you will receive a notification after your account is activated
MANAGE TORREY PINES BANK ONLINE ACCOUNT
Online Banking services at Torrey Pines Bank allow you to:
See account activity, balances and history
Pay bills online
See loan balances
Transfer money between your accounts
See account statements
Stop payment
See front and back images of paid checks
Login Instructions for Other Banks (See all)