Bank7 is located in Oklahoma and been serving the community for more then 100 years (founded 1901). They believe in customer satisfaction and know that they are only as successful as their customers are.
Website: https://www.bank7.com
Routing Number: 103103778
Swift Code: Not Available
Telephone Number: 1-800-259-0921
Headquartered In: Oklahoma
Founded: 1901 (117 years ago)
Bank's Rating:
Read this tutorial in
Get Free Credit Score Report!
Using your Bank7 online account can help you keep track of your financial assets with the bank and knowing your current status regarding loans for example. Having an online account allows you to to make transactions as well to other accounts (outside or inside the bank).
How to Log In
Step 1 – Go to the bank's homepage (link opens in a new window) and type your Access ID in the field under the side menu, then click the "Login" button:

Step 2 – You've been directed to the Password entry page, type your password in the field and click the "Submit" button:

You should now be logged in your account in case you had the right Access ID and password.
Forgotten Password / Access ID
If you forgot your Access ID you will need to contact the bank directly as they do not provide any online means to retrieve it.
However, if the password is what you can't find then follow the steps below to:
Step 1 – Go to the homepage and type your Access ID, then click the "Login" button:

Step 2 – You are now in the Password typing page, click the "Forgot Your Password?" link:

Step 3 – Fill all the fields and click the "Submit" button. The password will be sent to you via the email address you provide so make sure you type in an address you can get the messages from:

How to Enroll
Step 1 – Go to the bank's homepage and click the "First Time User?" button:

Step 2 – Popup window will show up with the bank's "Personal Disclosure", read the rules and terms and click the "Accept" button: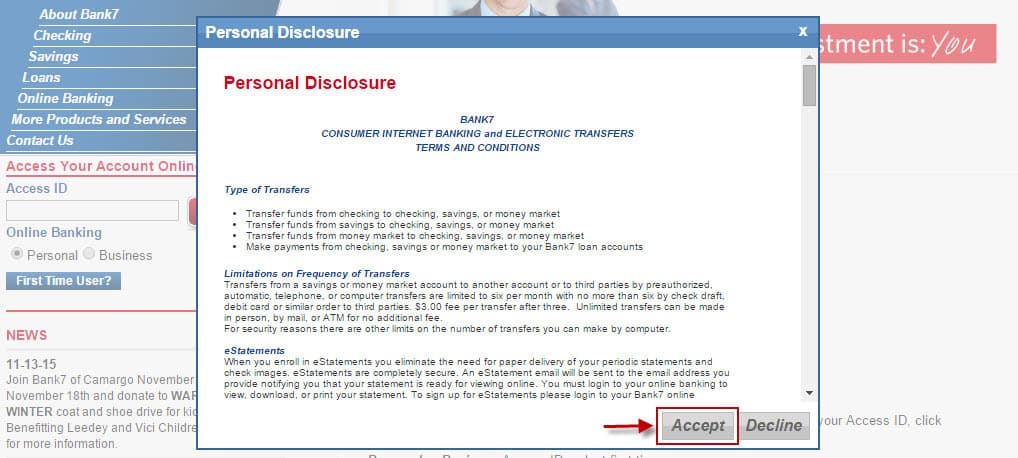 Step 3 – Fill in the fields on the "First Time Login" page and click the "Submit" button: