Independent Bank was founded as First National Bank of Ionia in 1864. The bank operates 63 offices across Michigan's Lower Peninsula. Independent Bank offers full range of financial services.
Website: http://www.independentbank.com/
Routing Number: 072402652
Swift Code: Not Available
Telephone Number: 1-800-355-0641
Headquartered In: Michigan
Founded: 1864 (154 years ago)
Bank's Rating:
Read this tutorial in
Get Free Credit Score Report!
Independent Bank allows you to take control of your finances with their online banking system which you can use anytime from the comfort of your computer. This guide is to help you sign in, reset your password, enroll and know online services provided by the bank.
HOW TO LOG IN
To sign in, you must be a holder of existing online account at Independent Bank. The steps here assist you login into account using your PC:
Step 1- On PC browser, please enter or click http://www.independentbank.com/ to open Independent Bank's website
Step 2- In the homepage, click the shown drop down box then select Online Banking as shown below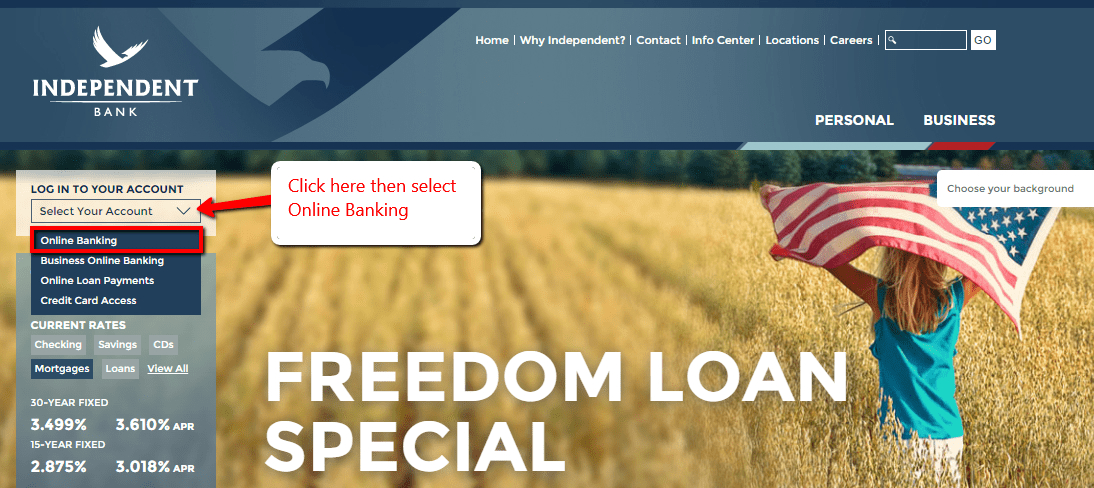 Step 3- Please enter your username, then Continue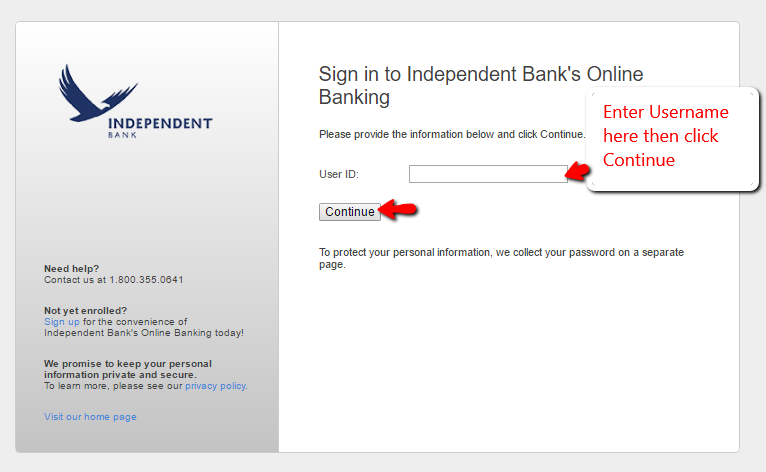 Step 4- Enter your password, then click Sign In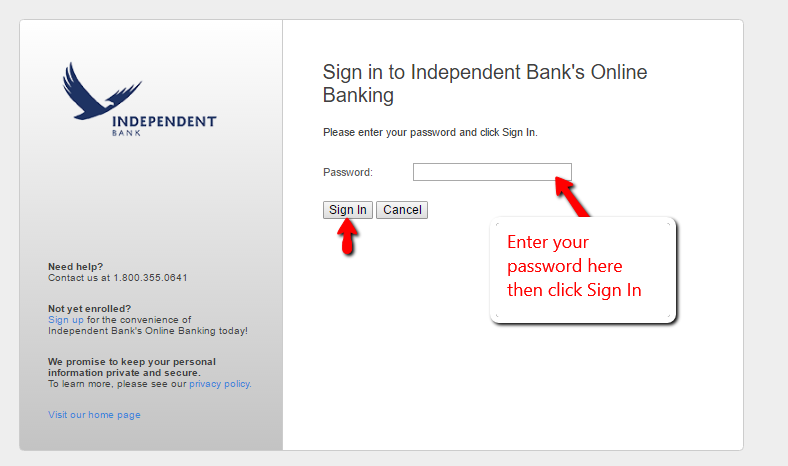 After you are authorized, continue with your online banking transactions
FORGOTTEN PASSWORD / LOGIN ID?
Having difficulties remembering your password or login ID? Please feel free to contact the bank on phone for help at 1-800-355-0641
HOW TO ENROLL
In order for you to be eligible to enroll, you must be an account holder at Independent Bank. To enroll follow these steps:
Step 1- Follow the first two steps in the login section above
Step 2- Click the Sign up link shown below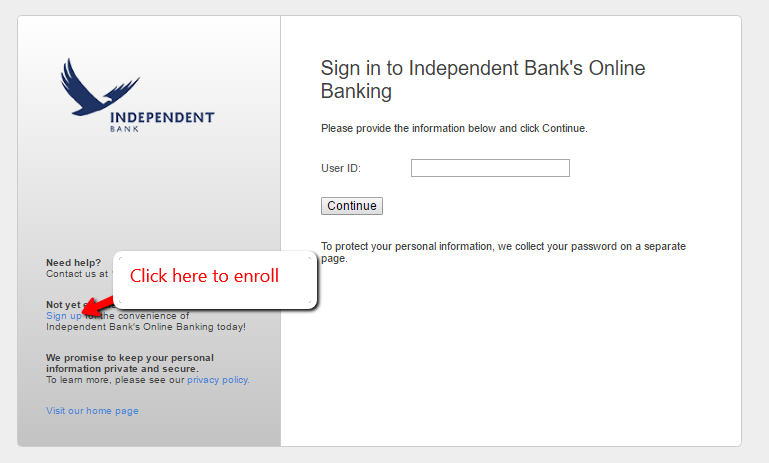 Step 3- Select account type and accept the bank's online banking terms, then click Continue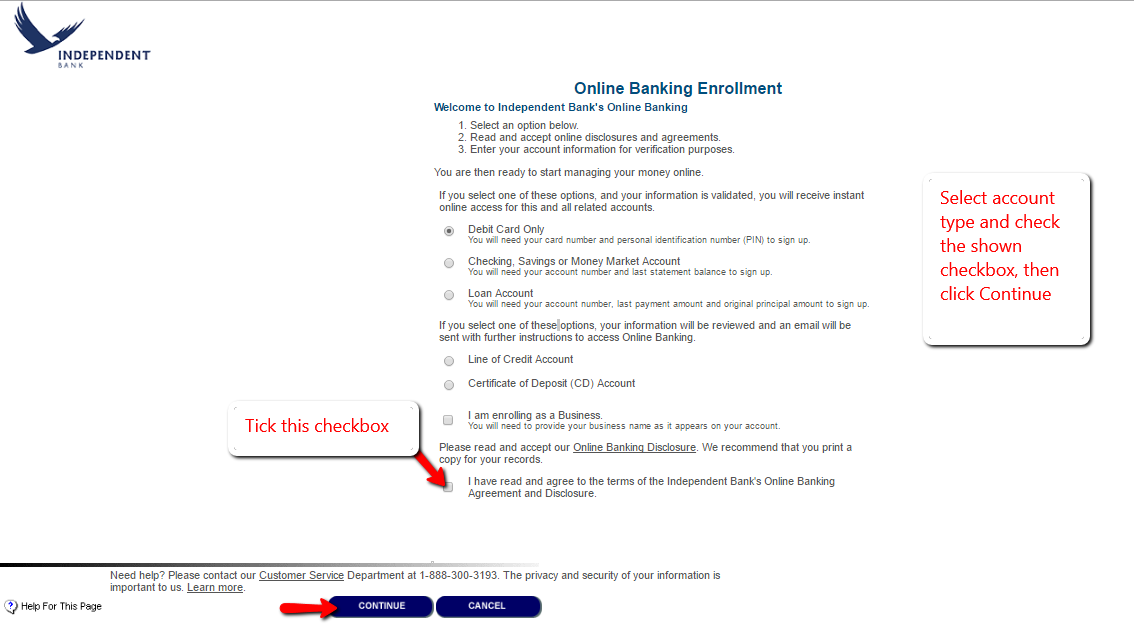 Step 4- Fill in the information needed in the Online Banking Enrollment form, then click Continue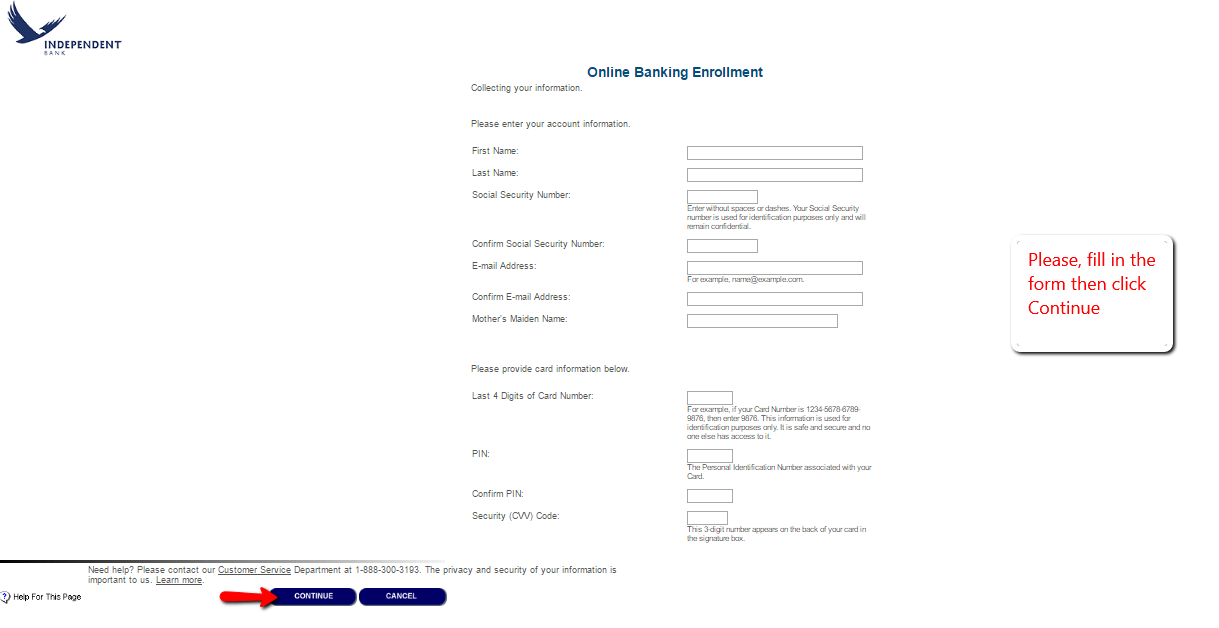 Once you successfully finish the enrollment process, you will have an active online account.
MANAGE INDEPENDENT BANK ONLINE ACCOUNT
As customer with Independent Bank's online account, you can:
Pay a bill to anyone in the U.S., Virgin Islands, or Puerto Rico
Create recurring payments and set up stop payment requests
View all your transactions on a single page
Pay Independent Bank loans
Transfers funds to different Independent Bank accounts
Create email and text alerts on account activity
View latest online banking news